X-ray properties spectroscopy and electron structure of Ca3Ga2Ge4O14 garnet with dopped Ce (Eu)
Authors
Scherba, Ivan
Kostyk, Lyudmyla V.
Noga, Henrik
Uskoković, Dragan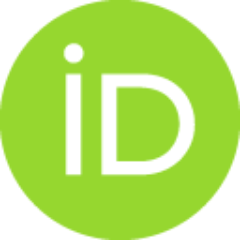 Bekenov, Lev V.
Denys, Vitalij
Conference object (Published version)

Abstract
Crystals of Ca3Ga2Ge4O14 with the Ca-gallogermanate structure have a unique combination of physical properties - luminescent, laser, resilient, piezoelectric, and acoustic. Disordered trigonal compounds Ca3Ga2Ge4O14 activated with RE ions and transition elements are known as effective materials of quantum electronics, which combine the functions of generation and transformation of laser irradiation frequency. It stimulated the study of spectral - luminescent properties of transitional and RE metals impurity ions in these materials. However, the electronic structure, matrix luminescence of Ca3Ga2Ge4O14 crystals have not been sufficiently studied. The crystals were grown by Czochralski technique in the atmosphere of argon with adding oxygen using platinum crucible. The X-ray emission spectra of Ga (Ge) and Ce (Eu)LIII-edge in the Ca3Ga2Ge4O14garnet with dopped Ce 3 % and Eu 4% were obtained by a tube-spectrometer with X-ray coordinate detector of the original design. OKα-spectra in the
...
Ca3Ga2Ge4O14garnet were obtained by a SARF -spectrometer. Spectra of the core levels and the valence band in the Ca3Ga2Ge4O14were measured by the "Kratos" X-ray photoelectron spectrometer. The X-ray spectral studies of the Ca3Ga2Ge4O14have shown that the top of the valence band (near the Fermi level) is formed mainly by the outer electron p–states of Ga, Ge, and O, which intensity is sufficiently low. The middle of the valence band is formed by the Ga 3d–states with the О2s–states lying below them. These states are hybridized with the 4р–states of Ga and Ge because of which they are Кβ''–satellite in Кβ2– sub-band of Ga and Ge. The bottom of the valence band is formed by the 3d–states of germanium, which contribution in chemical binding is insignificant. Alignment of the X-ray emission bands of Ga and Ge with photoelectron spectrum of valence electrons of the Ca3Ga2Ge4O14demonstrated satisfactory correspondence.
Keywords:
Ca3Ga2Ge4O14 / XRD / doping / electron structure
Source:
Programme and the Book of abstracts / Twenty-second Annual Conference YUCOMAT 2021 Herceg Novi, Montenegro, August 30 - September 3, 2021, 2021, 101-101
Publisher:
Belgrade : Materials Research Society of Serbia